NEWS!
Last Update: 12 JANUARY 2015
---
2015 Travel Leave Schedule:
***tba - Jake in town for now..
HAPPY NEW YEAR!
UPCOMING SHOWS by VibraSON - Jake's hot band!
VibraSON at Club Milano, 394 S. Second St, San Jose on FRI Jan 16, 2015 - 10:30pm
VibraSON at Cigar Bar, 850 Montgomery St, SF on Jan 17 at 10pm
VibraSON at NEW CLUB: El Toro, 2470 San Bruno Avenue, San Francisco - JAN 22, 10pm
VibraSON at Allegro 4th Saturdays in Emeryville, 5855 Christie, on Jan 24- 10pm
VibraSON premiere performance at Koketo's Salsa Sundays, Belmont, CA on Jan 25, 2015
VibraSON premiere performance at Eagles Hall, 2305 Alameda Ave, Alameda on Jan 30! JAKE TEACHES SALSA CLASS 8PM
JOIN JAKE'S NEWSLETTER EMAIL LIST!:
Don't worry - we do not send out loads of junk mail! We only send class announcements and special event notifications... Privacy Policy: We do not share email addresses with other promotors or any third parties. Just ENTER EMAIL ADDRESS BELOW AND CLICK "Join". Thanks -Jake
SIGN UP FOR OUR NEWSLETTER !


or on Facebook at www.Facebook.com/VibraSONmusic

Or simply click HERE: for our GIG CALENDAR
---
Salsa Satire?! You bet! Visit the Dance Humor Page and see my animations!
---
Sept 15:

COCOMO
IS NOW CLOSED

!! Sorry... Stay tuned for new classes...
THIS WEEK'S LIVE SALSA NIGHTS AND CLASSES:

FRI, JANUARY 16: VIBRASON in the house at Club Milano in San Jose!

SAT, JANUARY 17: VIBRASON in the house at Cigar Bar in San Francisco!

GREAT THURSDAY Salsa CLASSES AT 8pm at CAFE COCOCMO with LIVE MUSIC!(S.F.)
September XX - CLOSED!
SalsabyJake's class starts at 8pm, class is free w/paid admission)
Thursday is the "dancers" dance night! -the hottest Salsa night in town.
Join us for a WEEKDAY class in San Francisco at the most popular club in the Bay Area. One-hour class 8-9pm which is freew/admission,followed by D.J. Fred and Live bands. See the COCOMO Page for band schedule information, and directions....Attention DANCERS: Cafe Cocomo gets very crowded now, so come early for best dancing, (free) parking,seating, and of course, our warm-up Salsa class! Try Saturdays early too, for more dance room...
********* Cafe Cocomo Information: 415-824-6910 or visit www.CafeCocomo.com
Sizzlin' SATURDAYS

: Salsa Classes at 8pm at Cafe Cocomo with Live Music
Sept XX - CLOSED!
SalsabyJake's class starts at 8pm, class is free w/paid admission)

Please join us every Saturday at the hottest club in San Francisco: Cafe Cocomo for a fun club class. We teach Beg./Int. Salsa from 8 to 9PM, followed by D.J and LIVE music. Huge dance floor! Plenty of free parking, easy access. CLICK HERE for full Cafe Cocomo Schedule/Pricing information... Attention DANCERS:> Cafe Cocomo gets very crowded now, so come early for best dancing, (free) parking, seating, and of course, our warm-up Salsa class!
********* Cafe Cocomo Information: 415-824-6910 or visit www.CafeCocomo.com

---
IT'S TRUE: Cocomo CLOSED - on Sept 15
1st cocomo Flyer, 1998
---
Jake shares stage with legendary New Swing Sextet - June 2014!
On June 14, 2014, the legendary New Swing Sextet from New York City played a special show at Cafe Cocomo. This band has made great music for 49 years and it is also an inspiration for Jake's own VibraSON band! Jake was thrilled to share the stage for a song with the band that night too! It's a great band with great guys! Thx!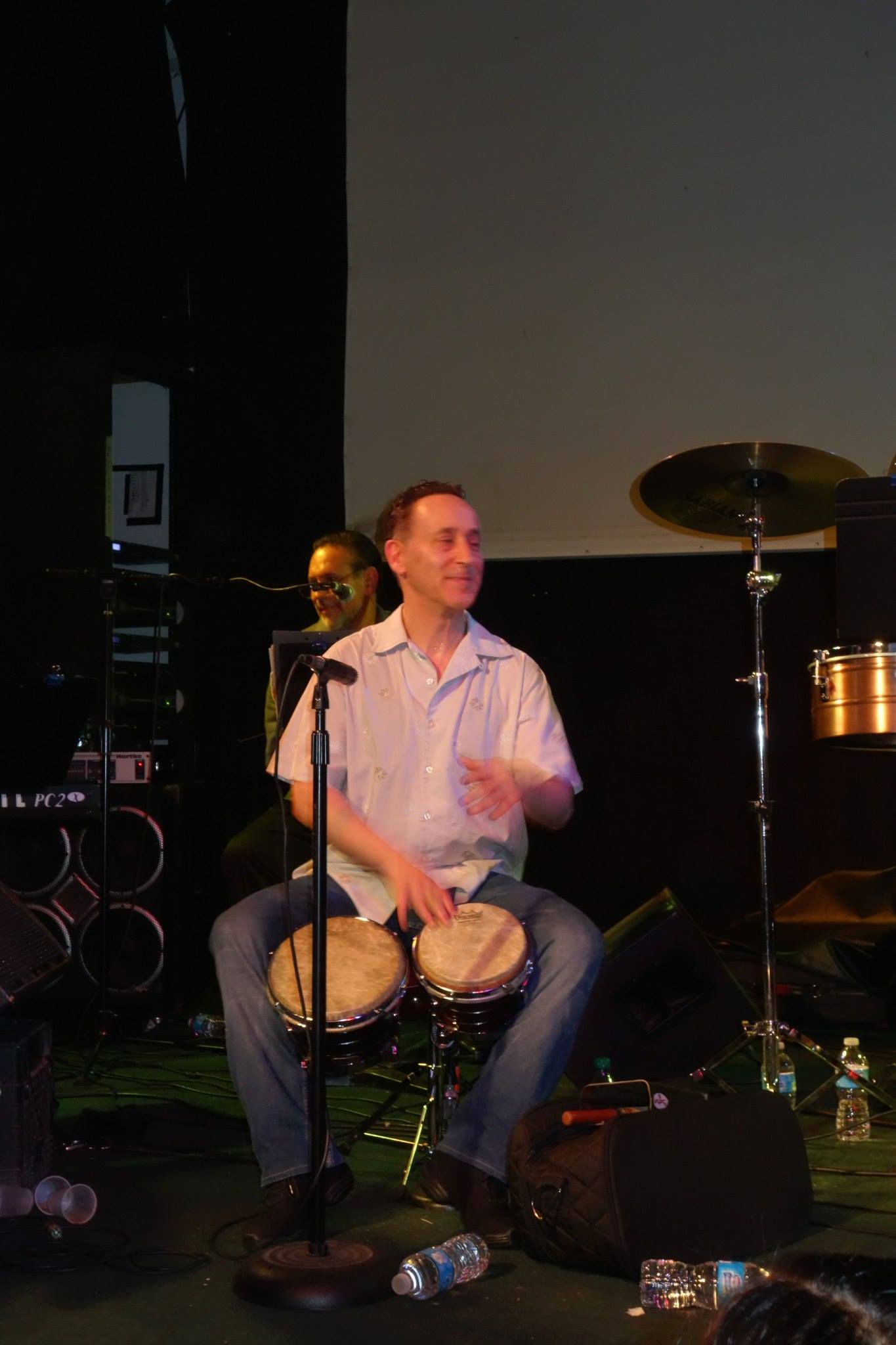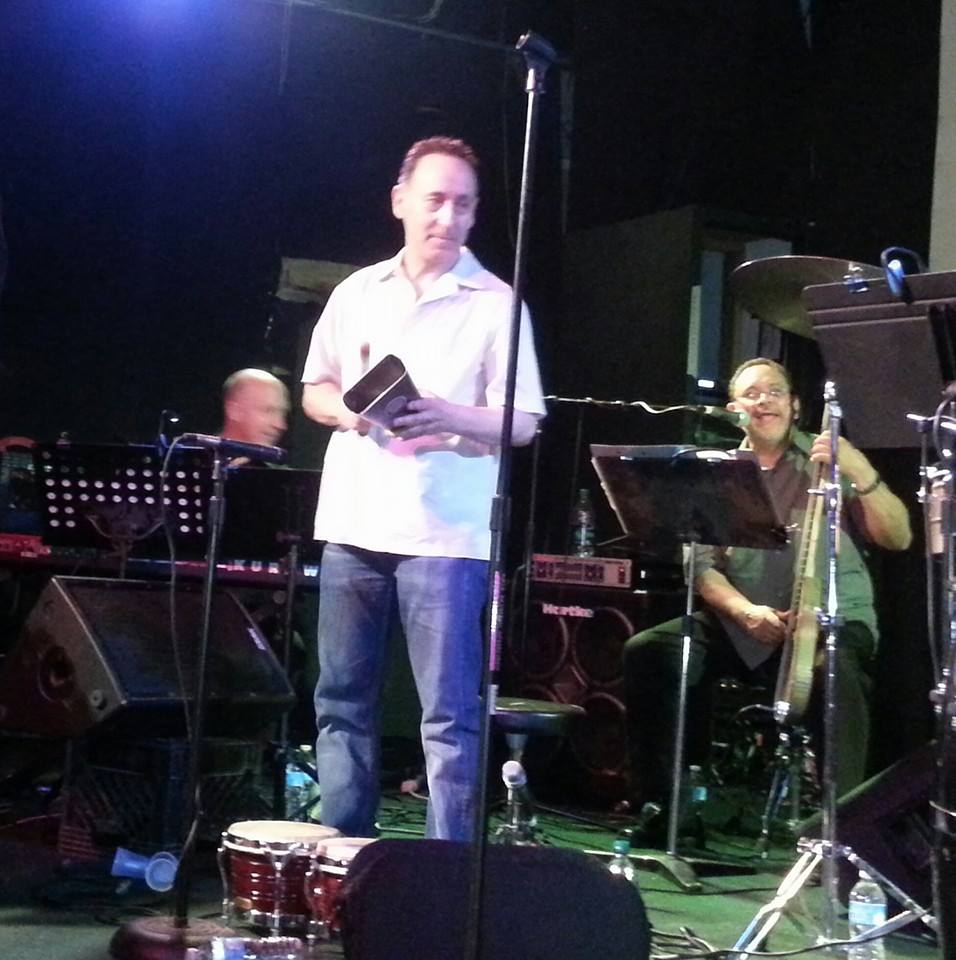 ---
Jake teaches HUGE class at the Pacific Mambo Orq. Grammy Gala, March 22 2014
Check out the great photos by Peter Maiden from the enormous Grammy Gala for PMO last Saturday. One shot is from our class which totaled more than 150 people!
http://www.timba.com/user_pages/grammy-celebration-at-c-como-3-2-2014
---
Dancing meets the Band:
If you've been around for a while, you probably know that Jake has been studying percussion for several years, sitting in with bands now and then at Cocomo and generally obsessed. Well, the more you know about the music, the more fun you have dancing to it after all... Jake has been playing with local bands....when he can! Jake's gigs can also be found on the Percussion Gigs page.
DO YOU NEED A SALSA / LATIN JAZZ BAND FOR YOUR PARTY OR EVENT!?!??
THEN PLEASE CONTACT JAKE THROUGH THIS WEB SITE! I can configure a great band for you of almost any size, and help with your entertainment!
OR CHECK OUT JAKE'S NEW BAND: VibraSON!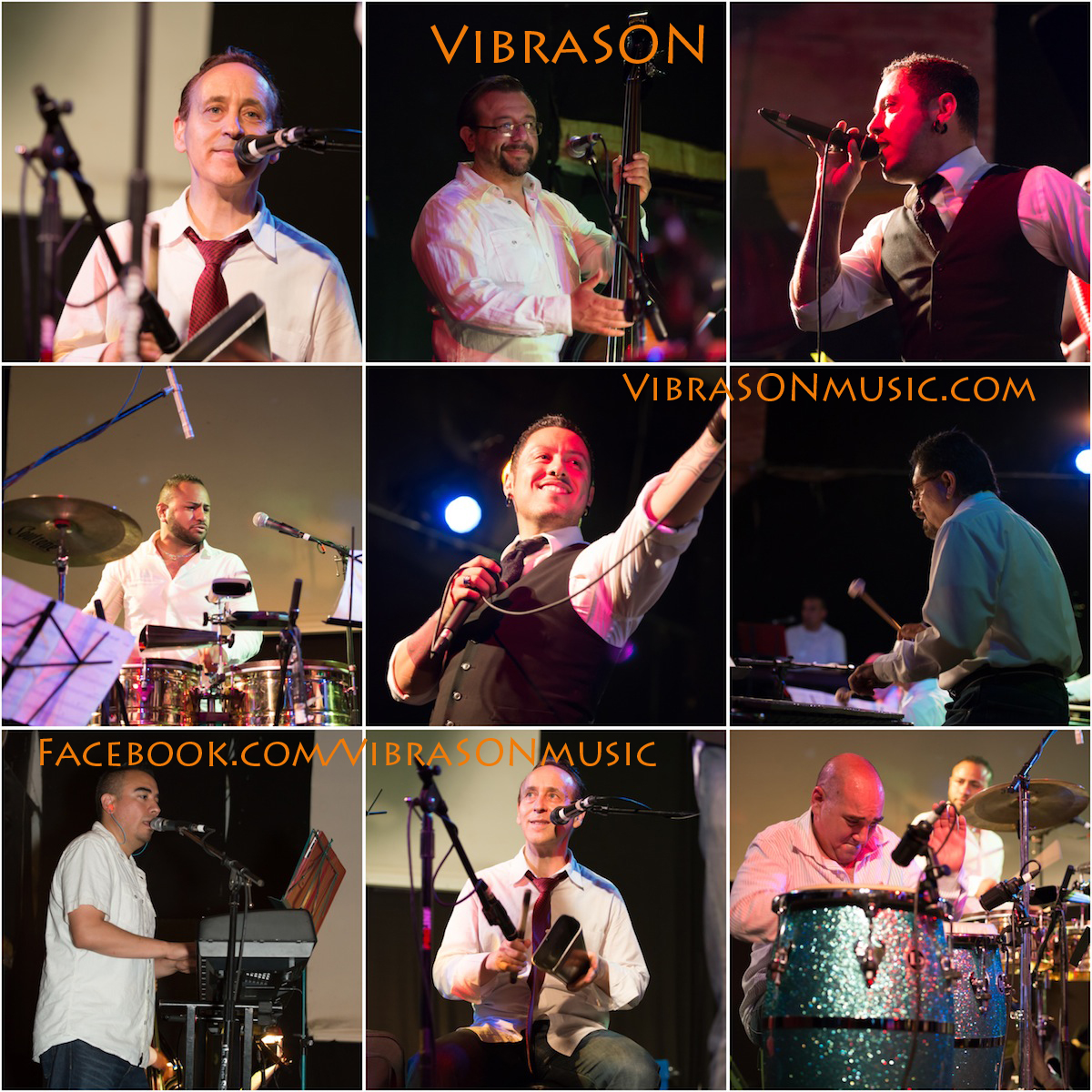 at www.VibraSONmusic.com or on Facebook at www.Facebook.com/VibraSONmusic

------------------ Jake's Upcoming Gigs: ------------
Date
Day
Band
Location
Time
Dec 12
Fri
Conj VibraSON
Conjunto VibraSON at The BEAT for Latin Fever Fridays in Berkeley... 9th and Parker streets, Berkeley
9:45pm
Dec 15
Mon
VibraSON
SalsaCrazy HOLIDAY PARTY at Rockit Room/Neck of the Woods, 406 Clement St, SF. Class 8pm
9:30pm
Dec 16
Tue
Conj VibraSON

Conjunto VibraSON

at Chachacha bar/restaurant in the Mission SF (19th/ Mission) for Live music 7-10pm!
7-10pm
Dec 26
Fri
VibraSON
Roccapulco, 3140 Mission St, San Francisco -

SORRY - THIS PERFORMANCE HAS BEEN CANCELED

2015
2015
HAPPY NEW YEAR FROM VIBRASON!
2015
Jan 10
Sat
VibraSON
SabrosoSF presents VibraSON at Space550 - great club with huge dance floor and bar. 550 Barneveld St, SF
10:30pm
Jan 16
Fri
VibraSON
Club Milano, 394 S. 2nds Street, San Jose, CA Band plays 10:30pm. Salsa lessons before at 8:30pm
10:30pm
Jan 17
Sat
VibraSON
Cigar Bar 850 Montgomery St, San Francisco, CA
10:00pm
Jan 22
Thur
VibraSON
El Toro

NEW CLUB!

2470 San Bruno Ave, SF Dance lesson by Fernando 8pm, free water/well drink b4 10pm.
10:00pm
Jan 24
Sat
VibraSON
Allegro Ballroom, Emeryville - 4th Saturdays
10:00pm
Jan 25
Sun
VibraSON
Koketo's Salsa Sundays 1410 Old County Rd, Belmont, CA - great Sunday party with indoor and outdoor space. Doors 4pm, band 6-9pm
6:00pm
Jan 30
Fri
VibraSON

Eagles Hall, 2305 Alameda Ave, Alameda CA

Check out this cool dance hall. JAKE will teach salsa lesson too at 8pm, followed by 2 sets by VibraSON!

9:15pm
---
Where's The Beat?!
Having trouble hearing the beat?! Know your Clave from your Conga?? Confused about the count??! Check out our new Hearing the Beat page for some help... including a Salsa rhythm Tutorial for lear
ning more about the music you hear every time you dance and JAKESBOOTCAMP, a new online based learning site! Need basic music theory? Check out http://www.smu.edu/totw/rhythm.htm or links to some good basic books on the same page...
---
Jake's Boot Camp: A new Concept in learning about Salsa dance and music...

Check out a new web site where multiple dancers and musicians are contributing content to help you learn their secrets of how to dance to and understand Salsa music. JakesBootCamp.com Click on the image below to access this site and learn more! Jake is planning to produce content for this site as well in the near future... (brought to you by SalsaCrazy)
Instructional DVDs from Salsacrazy:
For instructional DVDs, click here: Just released! Advanced Mastery System DVDs!
---
Aplauso! Please Read a short Memo on Musician Appreciation by Jake...

---
Troubled by the "On-1 vs. On-2" chatter about dancing? We hear you. We teach and dance mainly On-1, the timing you'll find 90% of dancers in California dancing.. That being said, many of the 'hardcore' dancers dance on 2 and it feels good too! Learning to dance on both rhythms is a great idea for your own versatility, but we highly recommend to be very good at one BEFORE trying the other! The instruction is quite different for each of the styles. By learnng one first, and understanding the music, the switch or transition is much more easy...
---
---
Listen to Great Salsa All Day:
Like HOT Salsa Music all day long? Check out the internet radio station of the Bay Area's own DJ La Coqui, Ivette Fuentes radio show on live365.com. Click below to listen to her station or another choice from a New York DJ.
---
What do women want from men? Dancing! That's what. See www.dancedancedance.com/whatwomen.htm for more. . .

Back to top of SalsabyJake.com