Jake's Band and Gigs , Band Booking!
Jake's Salsa Band VibraSON! (est. 2013)

DO YOU NEED A SALSA / LATIN JAZZ BAND FOR YOUR PARTY OR EVENT!?!??
Jake has been playing percussion for over 10 years and has played with many of the Latin bands in the S.F. Bay Area. If you are having a party/event/wedding/etc and you would like LIVE music, please contact me. I have associations with most of the musicians in the area, and the band can be configured to whatever your needs may be - from a trio to a 10-piece full salsa band! Dinner music, background, dance, as the case may be.
PLEASE CONTACT JAKE THROUGH THIS WEB SITE FOR BAND BOOKINGS! Of course I can also teach a salsa lesson too at your party :-)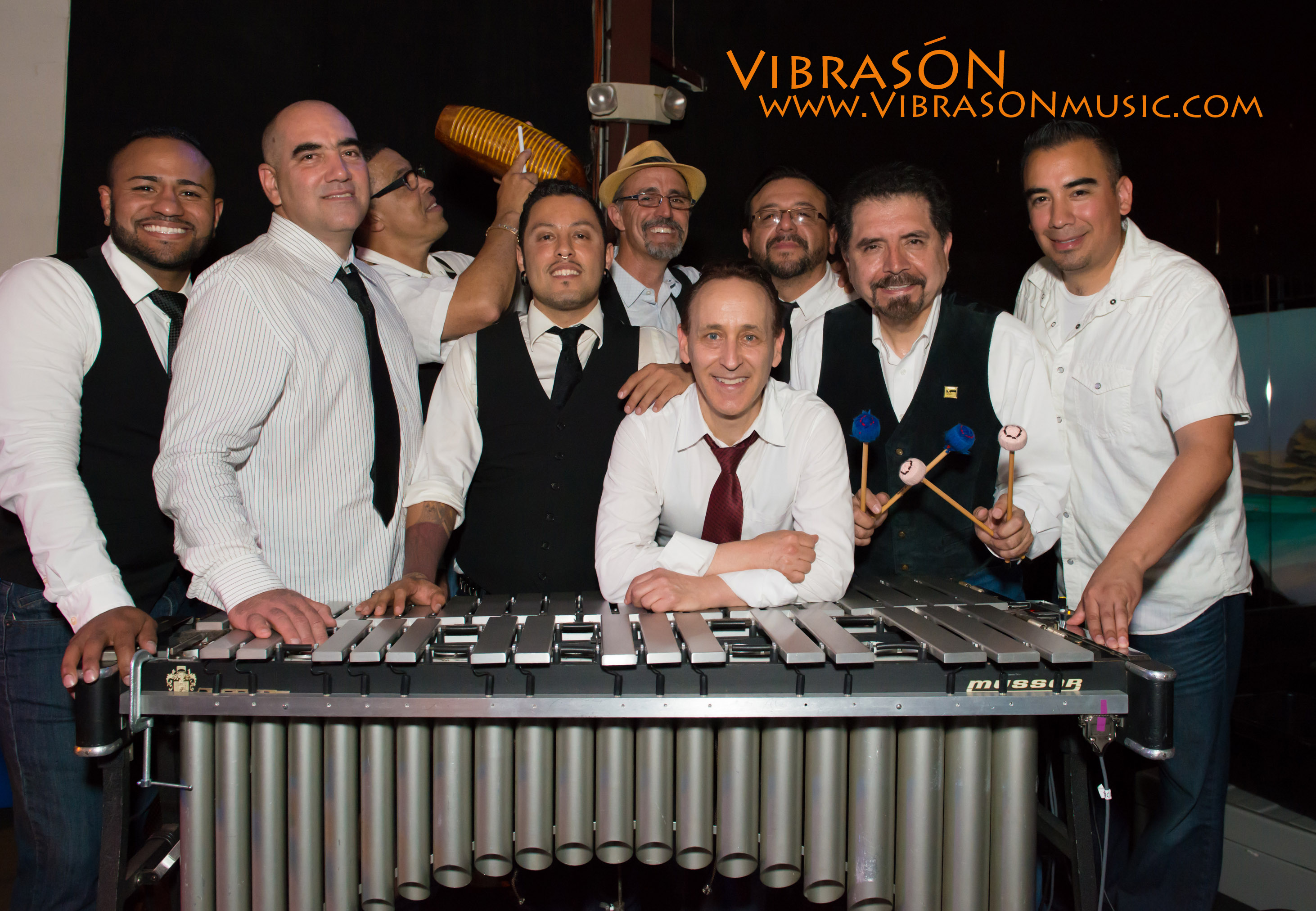 UPCOMING SHOWS by VibraSON - Jake's hot band!
EVERY TUESDAY!
VibraSON is very excited to perform at our regular TUESDAY LATIN VIBEI Party in SF
WE ARE PLAYING EVERY TUESDAY AT 9:30pm - JOIN THE LATINVIBESTUESDAY MAILING LIST FOR special entry discounts... DANCE FLOOR OPEN!
UPCOMING shows:
VibraSON plays at the elegant Cascal Restaurant in Mountain View monthly now.
Upcoming shows with Jake's salsa band VibraSON!
See below for more info! Or just CLICK HERE TO GO TO VIBRASON CALENDAR
Five years in the planning, Jake finally started a band with the cool vibraphone sound that many dancers love and many DJs play. A 7-piece band features the instrument and great music from the past. For more information, please visit www.VibraSONmusic.com or www.Facebook.com/VibraSONmusic
PERFORMANCES AROUND THE BAY - FOR A ACCURATE UP-TO-DATE CALENDAR OF VIBRASON shows, Please check VibraSON Calendar HERE
We are also on Facebook at www.Facebook.com/VibraSONmusic
Jake will be playing percussion with the Latin/Salsa bands below at the following times/locations:
2017
----
2017 -----

------ 2017-------

2017 2017 2017

2017
Jan 17
TUE
VibraSON
NEW NEW NEW! LatinVibeTuesdays - EVERY TUE at brand new bar in San Francisco
9:30pm
Jan 20
Fri
VibraSON
DANCE Fridays, 550 Barneveld St, San Francisco

BIGGEST DANCE PARTY IN SAN FRAN!!

10:00pm
Jan 24
TUE
VibraSON
NEW NEW NEW! LatinVibeTuesdays - EVERY TUE at brand new bar in San Francisco
9:30pm
Jan27
Fri
Conj. VibraSON
Cascal Restaurant, 400 Castro Street, Mountain View, CA
9pm
Jan 31
TUE
VibraSON
NEW NEW NEW! LatinVibeTuesdays - EVERY TUE at brand new bar in San Francisco
9:30pm
Feb 7
TUE
VibraSON
LatinVibeTuesdays - EVERY TUE at brand new bar in San Francisco
9:30pm
Feb 11
SAT
Conj. VibraSON
Tomaj 2nd Sat party with classes in Orinda, CA See EastBaySalsa.com
9:45pm
Feb 14
TUE
VibraSON

SPECIAL VALENTINE'S LATIN VIBE TUESDAY!

Salsa class by Jake at 7:45pm, NEW DJ Guardado during breaks, and LIVE music with Jake's own VIBRASON LATIN BAND!

7:45pm
Feb 19
Sunday
VibraSON
Debut performance at Boogaloo Sundays - at Gordon Biersch in San Jose, only $5 starting at 5pm.
6pm
Feb 21
TUE
VibraSON
LatinVibeTuesdays - EVERY TUE at brand new bar in San Francisco
9:30pm
Feb 24
Fri
Conj. VibraSON
Cascal Restaurant, 400 Castro Street, Mountain View, CA
9pm
Feb 28
TUE
VibraSON
LatinVibeTuesdays - EVERY TUE at brand new bar in San Francisco
9:30pm
Mar7
TUE
VibraSON
LatinVibeTuesdays - EVERY TUE at brand new bar in San Francisco
9:30pm
Mar14
TUE
VibraSON
LatinVibeTuesdays - EVERY TUE at brand new bar in San Francisco
9:30pm
Mar21
TUE
VibraSON
LatinVibeTuesdays - EVERY TUE at brand new bar in San Francisco
9:30pm
Mar24
Fri
Conj. VibraSON
Cascal Restaurant, 400 Castro Street, Mountain View, CA
9pm
Mar25
Sat
VibraSON
Cigar Bar 850 Montgomery St, San Francisco, CA
10pm
Mar28
TUE
VibraSON
LatinVibeTuesdays - EVERY TUE at brand new bar in San Francisco
9:30pm
Apr 4
TUE
VibraSON
LatinVibeTuesdays - EVERY TUE at brand new bar in San Francisco
9:30pm
Apr 8
Sat
Conj. VibraSON
New! At Trader Vic's Bar/lounge in Emeryville, CA
7:00pm
Apr11
TUE
VibraSON
LatinVibeTuesdays - EVERY TUE at brand new bar in San Francisco
9:30pm
Apr14
Fri
VibraSON
DANCE Fridays, 550 Barneveld St, San Francisco
10:00pm
Apr18
TUE
VibraSON
LatinVibeTuesdays - EVERY TUE at brand new bar in San Francisco
9:30pm
Apr 22
Sat
VibraSON
Dance Mega Party at Allegro Ballroom 5855 Christie Ave in Emeryville, CA - lots of lessons too!
10:00pm
Apr25
TUE
VibraSON
LatinVibeTuesdays - EVERY TUE at brand new bar in San Francisco
9:30pm
May 2
TUE
VibraSON
LatinVibeTuesdays - EVERY TUE at brand new bar in San Francisco
9:30pm
May9
TUE
VIbraSON
LatinVibeTuesdays - EVERY TUE at brand new bar in San Francisco
9:30pm
May12
Fri
Conjunto VibraSON
Cascal Restaurant, 400 Castro Street, Mountain View, CA
9:00pm
May13
Sat
VibraSON
Grand open of Noche Latina at Allegro Ballroom, Emeryville, CA
10:30pm
May16
TUE
VibraSON
LatinVibeTuesdays - EVERY TUE at brand new bar in San Francisco
9:30pm
May23
TUE
VibraSON
LatinVibeTuesdays - EVERY TUE at brand new bar in San Francisco
9:30pm
May27
Sat
Conjunto VibraSON
New! At Trader Vic's Bar/lounge in Emeryville, CA
7:00pm
June 6
TUE
VibraSON
LatinVibeTuesdays - EVERY TUE at brand new bar in San Francisco
9:30pm
June 10
Sat
Conj. VIbraSON
Sultry Salsa Saturdays at Flamingo Resort in Santa Rosa
9pm
June 13
TUE
VibraSON
LatinVibeTuesdays - EVERY TUE at brand new bar in San Francisco
9:30pm
June 16
Fri
VibraSON
Cigar Bar 850 Montgomery St, San Francisco, CA
10pm
June 20
TUE
VibraSON
LatinVibeTuesdays - EVERY TUE at brand new bar in San Francisco
9:30pm
June 23
Fri
Conj. VibrasON
Cascal Restaurant, 400 Castro Street, Mountain View, CA - FREE!
9pm
June 27
TUE
VibraSON
LatinVibeTuesdays - EVERY TUE at brand new bar in San Francisco
9:30pm
July 1
Sat
Conj. VibraSON
At Trader Vic's Bar/lounge in Emeryville, CA -- FREE!
7:00pm
July 4, 11, 18, 25
TUES
VibraSON
LatinVibeTuesdays - EVERY TUE at brand new bar in San Francisco -- Now with Dance lesson 8pm too!
9:30pm
July 15
Sat
Conj. VibraSON
Cascal Restaurant, 400 Castro Street, Mountain View, CA - FREE!
9pm
July 22
Sat
VibraSON
Cigar Bar 850 Montgomery St, San Francisco, CA
10pm
July 28
Fri
Conj. VibraSON
Cascal Restaurant, 400 Castro Street, Mountain View, CA - FREE!
9pm
Aug 1, 8, 15, 22, 29
TUES
VibraSON
LatinVibeTuesdays - EVERY TUE at brand new bar in San Francisco -- Now with Dance lesson 8pm too!
9:30pm
Aug 4
Fri
VibraSON
Creekside Festival Mill Valley
6:30pm
Aug 12
Sat
VibraSON
Noche Latina, Allegro Ballroom, Emeryville, CA
10pm
Sept 5, 12, 19, 26
TUES
VibraSON
LatinVibeTuesdays - EVERY TUE at brand new bar in San Francisco -- Now with Dance lesson 8pm too!
9:30pm
Sept 9
Sat
VibraSON
Cigar Bar 850 Montgomery St, San Francisco, CA
10pm
Sept16
Sat
VibraSON
Allegro Ballroom, Emeryville CA
10pm
Setp 17
Sun
VibraSON
Rockridge Out n About Festival - we play at Rockridge Bart Plaza 11:30am-2:30pm Oakland, CA
NOON
Oct 3, 10, 17, 24, 31
TUES
VibraSON
LatinVibeTuesdays - EVERY TUE at brand new bar in San Francisco -- Now with Dance lesson 8pm too!
9:30pm
Oct 14
Sat
VibraSON
private party
Oct 20
Fri
Conj. VibraSON
Latin night at Le Colonial Lounge, 721 Sutter St, SF Buy discount advance tickets HERE
10pm
Oct 21
Sat
Conj. VibraSON
t Trader Vic's Bar/lounge in Emeryville, CA FREE ADMISSION!
7pm
Oct 27
Fri
VibraSON
DANCE Fridays, 550 Barneveld St, San Francisco
10pm
Oct 28
Sat
Conj. VibraSON
Cascal Restaurant, 400 Castro Street, Mountain View, CA - FREE!
9pm
Nov 7, 14, 21, 28
TUES
VibraSON
LatinVibeTuesdays - EVERY TUE at brand new bar in San Francisco -- Now with Dance lesson 8pm too!
9:30pm
Nov 18
Sat
Conj. VibraSON
Trader Vic's Bar/lounge in Emeryville, CA FREE ADMISSION!
7pm
Dec 5, 12, 29, 26
TUES
VibraSON
LatinVibeTuesdays - EVERY TUE at brand new bar in San Francisco -- Now with Dance lesson 8pm too!
9:30pm
Dec 9
Sat
Conj. VibraSON
Tomaj's 2nd Sat party, Masonic Hall, Orinda CA
9:30pm
Dec 16
Sat
VibraSON
private party
Dec 22
Fri
Conj. VibraSON
Cascal Restaurant, 400 Castro Street, Mountain View, CA - FREE!
9pm
Dec 23
Sat
VibraSON
Allegro Ballroom, Emeryville CA with dance classes prior to the show
10pm
Dec 30
Sat
Conj. VibraSON
Cascal Restaurant, 400 Castro Street, Mountain View, CA - FREE!
9pm
2018
----
2018 -----

------ 2018-------

2018 2018 2018

2018
Jan 2, 9, 16, 23,30
TUES
VibraSON
LatinVibeTuesdays - EVERY TUE at brand new bar in San Francisco -- Now with Dance lesson 8pm too!
9:40pm
Jan 5
FRI
VibraSON
Cigar Bar 850 Montgomery St, San Francisco, CA
10pm
Jan 21
Sun
Conj. VibraSON
GRAND OPEN- Sangria Sundays at El Valenciano in SF! with dance class before the show too. 1153 Valencia St, SF
6pm
Jan 27
Sat
VibraSON
Cascal Restaurant, 400 Castro Street, Mountain View, CA - FREE!
9pm
Feb 2
FRI
VibraSON
Cigar Bar 850 Montgomery St, San Francisco, CA
10pm
Feb 3
Sat
VibraSON
Santa Clara University, fundraiser
7:30pm
Feb 24
Sat
VibraSON
Cascal Restaurant, 400 Castro Street, Mountain View, CA - FREE!
9pm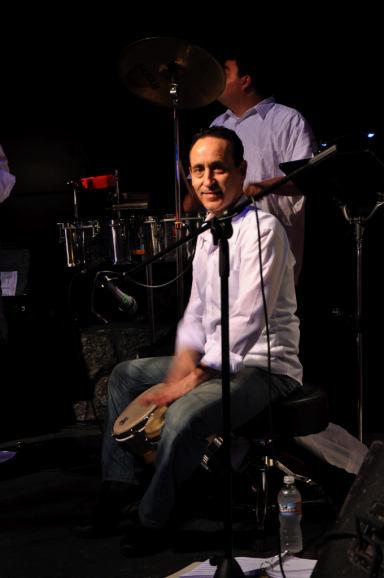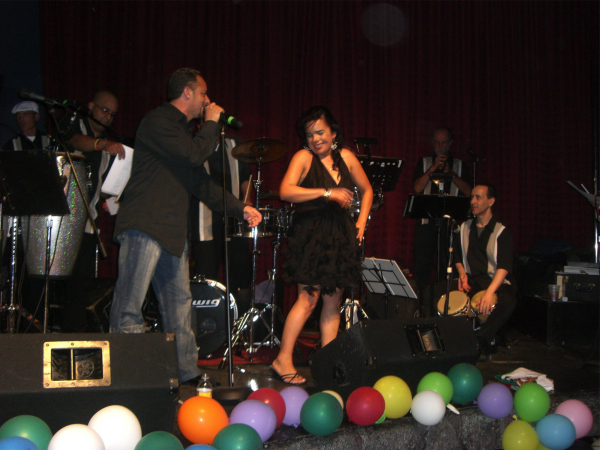 Back to top of SalsabyJake.com