Jake's Percussion Gigs and Band Booking!
Jake's New Band!
DO YOU NEED A SALSA / LATIN JAZZ BAND FOR YOUR PARTY OR EVENT!?!??
Jake has been playing percussion for over 9 years and has played with many of the Latin bands in the S.F. Bay Area. If you are having a party/event/wedding/etc and you would like LIVE music, please contact me. I have associations with most of the musicians in the area, and the band can be configured to whatever your needs may be - from a trio to a 10-piece full salsa band! Dinner music, background, dance, as the case may be.
PLEASE CONTACT JAKE THROUGH THIS WEB SITE FOR BAND BOOKINGS! Of course I can also teach a salsa lesson too at your party :-)

Next Performances: MONDAY, Nov 3 in SF at the SalsaCrazy Monday Party! 9:30pm. Friday, Nov 7 at Club Fox in Redwood City - 1st set. Tue Nov 11 (FREE!) at Cha Cha Cha in SF Mission 7-10pm (our Oct 28 performance was moved to Nov 11 due to World Series), Nov 15 at Allegro Ballroom
Five years in the planning, Jake finally started a band with the cool vibraphone sound that many dancers love and many DJs play. A 7-piece band features the instrument and great music from the past. For more information, please visit www.VibraSONmusic.com or www.Facebook.com/VibraSONmusic
PERFORMANCES AROUND THE BAY
Nov 22 - VibraSON at San Francisco International Salsa Congress Gala night!
Friday Nov 28, VibraSON will play at Cigar Bar in San Francisco!
SATURDAY, NOV 29, VibraSON plays the new SABROSO_SF in San Francisco at Space 550, 550 Barneveld, SF
Jake will be playing percussion with the Latin/Salsa bands below at the following times/locations:
Date
Day
Band
Location
Time
---- 2014 ----
Jan 30
Thur
VibraSON
Jake's band plays Dancer's Night! Cocomo, 650 Indiana, SF
10:15pm
Feb 16
Sun
VibraSON
President's Day Bash by DJ JessyJaz at CPAA Arts Center, 1168 Bollinger Road, San Jose, CA
10:15pm
Feb 21
Fri
VibraSON
Taste Fridays at Cocomo, 650 Indiana, SF
10:15pm
Feb 27
Thu
VibraSON
Dancer's Night! Cocomo, 650 Indiana, SF
10:15pm
Mar 1
Sat
VibraSON
Yerba Buena Social Club, 2050 Bryant St, SF
10:30pm
Mar 15
Sat
VibraSON
Allegro 3rd Saturdays, 5855 Christie Ave, Emeryville
10:00pm
Mar 20
Thu
VibraSON
Dancer's Night! Cocomo, 650 Indiana, SF
10:15pm
Mar 31
Mon
VibraSON
SalsaCrazy Party at Rockit Room/Neck of the Woods, 406 Clement St, SF.
9:30pm
Apr 3
Thu
VibraSON
Dancer's Night! Cocomo, 650 Indiana, SF -- Jake teaches at 8pm too!
10:15pm
Apr 8
Tue
VibraSON
Jake's band! LIVE at the new Salsa Tuesdays, Cocomo, 650 Indiana St, SF
10:00pm
4/18-5/2
VibraSON
traveling... no gigs
May 9
Fri
VibraSON
TASTE Fridays at Cocomo, 650 Indiana, SF
10:00pm
May 11
Sun
VibraSON
The Ramp - waterside bar/restaurant 855 Terry Francois Blvd, SF - Dancing, food, and drink outside!
5:00pm
May15
Thur
VibraSON
Cocomo - 650 Indiana St, SF 10:30pm. Jake teaches at 8pm
10:30pm
May 16
Fri
VibraSON
Club Fox, 2209 Broadway, Redwood City, CA
10:15pm
May 23
Fri
VibraSON
Cigar Bar 850 Montgomery St, San Francisco, CA
10:00pm
June 2
Mon
VibraSON
SalsaCrazy 20th Anniversary Party at Rockit Room/Neck of the Woods, 406 Clement St, SF.
9:30pm
June 5
Thur
VibraSON
LAST LAST PERFORMANCE-;) at Cocomo - club closes in June. 650 Indiana St, SF 10:30pm. Jake teaches at 8pm
10:15pm
June 13
Fri
VibraSON
Club Milano, 394 S. 2nd Street, San Jose CA
10:30pm
June 20
Sun
VibraSON
Cesar's Latin Palace 826 26th Street, San Francisco CA
10:30pm
June 30
Mon
VibraSON
SalsaCrazy Party at Rockit Room/Neck of the Woods, 406 Clement St, SF. Classes 7pm
9:30pm
July3
Fri
VibraSON
Club Milano, 394 S. 2nds Street, San Jose, CA - "Battle of the Bands" with Salson and VibraSON on same stage!
10:30pm
July 11
Fri
VibraSON
Allegro 2nd Fridays, 5855 Christie Ave, Emeryville
9:45pm
July 18
Fri
VibraSON
Cesar's Latin Palace 826 26th Street, San Francisco CA (tentative) -

CANCELED

10:00pm
July 20
Sun
VibraSON
The Ramp - waterside bar/restaurant 855 Terry Francois Blvd, SF - Dancing, food, and drink outside!
5:15pm
July 25
Fri
VibraSON
Cigar Bar 850 Montgomery St, San Francisco, CA
10:00pm
July 26
Sat
VibraSON

Huge Summer Salsa/Bachata Party at Cafe Cocomo, 650 Indiana St, SF -- Jake teaches 8pm too!

10:00pm
Aug 1
Fri
VibraSON
Club Milano, 394 S. 2nds Street, San Jose, CA
10:30pm
Aug 10
Sun
VibraSON
Sunday

FREE

Salsa at Cana, SF 500 Florida St, SF Lesson by Big Rob at 3pm, great food, drinks, dance floor.
5:45pm
Aug 14
Thu
VibraSON
Cocomo - 650 Indiana St, SF 10:30pm. Jake teaches at 8pm
10:15pm
Aug 19
TUE
C. VibraSON

Conjunto VibraSON

meets Chachacha bar/restaurant in the Mission in SF (19th and Mission) for Live music 6:30-9:30pm!
6:30pm
Aug 23
Sat
VibraSON
Allegro Ballroom, Emeryville - 4th Saturdays
10:00pm
Aug 28
Thu
VibraSON
Ashkenaz, Berkeley, CA - Latin Music Series!
9:00pm
Aug 29
Fri
VibraSON
Taste Fridays at Cocomo - 650 Indiana St, SF
10:00pm
Aug 30
Sat
VibraSON
Sausalito Seahorse, Sausalito, CA
9:30pm
Sept 6
Sat
VibraSON
Yerba Buena Social Club HOT Monthly party! NEW VENUE: Space 550, 550 Barneveld Ave, San Francisco
10:00pm
Sept 7
Sun
VibraSON
ShBoom Nightclub 2410 San Ramon Valley Blvd, San Ramon, CA
8:00pm
9/8-9/22
Jake traveling
Sept 27
Sat
VibraSON
REDWOOD CITY SALSA FESTIVAL - more info to come..
4:00pm
Sept 30
Tue
VibraSON

Conjunto VibraSON

at Chachacha bar/restaurant in the Mission SF (19th/ Mission) for Live music 6:30-9:30pm!
6:30pm
Oct 18
Sat
VibraSON
Cigar Bar 850 Montgomery St, San Francisco, CA
10:00pm

Oct 28

NOV 11

Tue
VibraSON

NOTE NOTE!! Due to Game 6 of World Series on 28th, our show was postponed until Tue NOV 11 - 7pm.

Conjunto VibraSON at Chachacha bar/restaurant in the Mission SF (19th/ Mission) for Live music 7-10pm

7:00pm
Oct 31
Fri
VibraSON
Club Milano HALLOWEEN PARTY!!!! 394 S. Second St, San Jose - more info to follow
10:30pm
Nov 3
Mon
VibraSON
SalsaCrazy Party at Rockit Room/Neck of the Woods, 406 Clement St, SF. Classes 7pm,8pm, band 9:30pm
9:30pm
Nov 7
Fri
VibraSON
Club Fox, 2209 Broadway, Redwood City, CA - DOUBLE HEADER - we play 1st set at 10pm, N'Rumba follows
10:00pm
Nov 11
Tue
VibraSON
Conjunto VibraSON at Cha Cha Cha - see above Oct 28 listing - since this gig was postponed to Nov 11
Nov 14
Fri
VibraSON
Club Milano, 394 S. 2nds Street, San Jose, CA - "Battle of the Bands" with Somos el Son and VibraSON on same stage! Somos plays 10:30pm. Battle at 12am!
midnight
Nov 15
Sat
VibraSON
Allegro Ballroom, Emeryville - 3rd Saturdays
9:45pm
Nov 22
Sat
VibraSON

NEW! NEW! NEW!

VibraSON is honored to open the Gala night at the 2014 San Francisco International Salsa Congress! See www.sfsalsacongress.com for more info (Our show just added so may not appear yet) on tickets, workshops, dance performances and musical acts. Tito Rojas headlines after our set and dance performances (midnight)

9:30pm
Nov 28
Fri
VibraSON
Cigar Bar 850 Montgomery St, San Francisco, CA Come dance that turkey off after shopping on Black Fri!
10:15pm
Nov 29
Sat
VibraSON
SabrosoSF presents VibraSON at Space550 - great club with huge dance floor and bar. 550 Barneveld St, SF
10:30pm
Dec 12
Fri
VibraSON
Conjunto VibraSON at The BEAT for Latin Fever Fridays in Berkeley... 9th and Parker streets, Berkeley
9:45pm
Dec 15
Mon
VibraSON
SalsaCrazy Mondays HOLIDAY PARTY! at Rockit Room/Neck of the Woods, 406 Clement St, SF. Class 8pm, band 9:30pm
9:30p
Dec 26
Fri
VibraSON
Roccapulco, 3140 Mission St, San Francisco for the new LEVITATE Fridays by Tomaj. Class 8pm, Band 10pm
10:00pm
2015
2015
HAPPY NEW YEAR FROM VIBRASON!
2015
Jan 10
Sat
VibraSON
SabrosoSF presents VibraSON at Space550 - great club with huge dance floor and bar. 550 Barneveld St, SF
10:30pm
Jan 21
Wed
VibraSON
VibraSON premier performance at the completely new Berkeley Underground, 2284 Shattuck Ave, Berkeley CA
10:00pm
Jan 30
Fri
VibraSON

Eagles Hall, 2305 Alameda Ave, Alameda CA

Check out this cool dance hall. JAKE will teach salsa lesson too at 8pm, followed by 2 sets by VibraSON!

9:15pm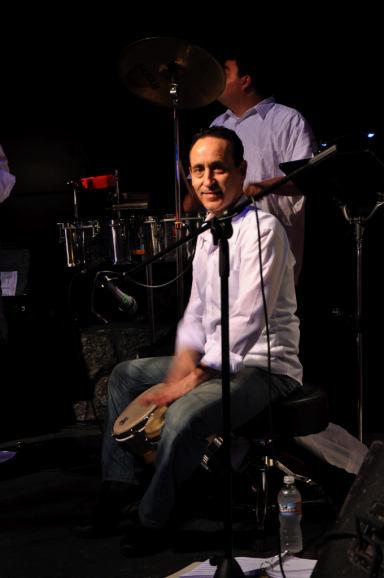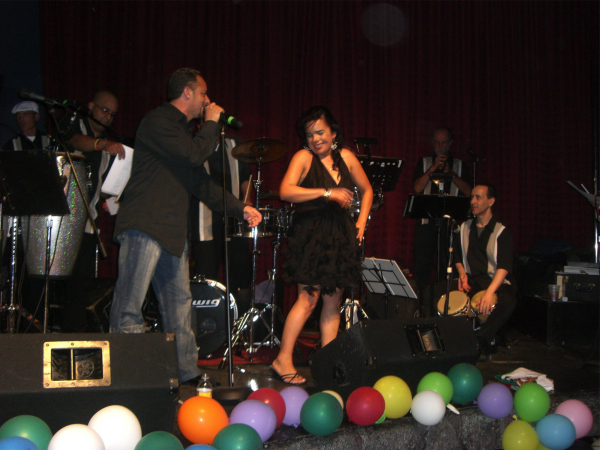 Back to top of SalsabyJake.com