Jake's Percussion Gigs and Band Booking!
Jake's New Band!
DO YOU NEED A SALSA / LATIN JAZZ BAND FOR YOUR PARTY OR EVENT!?!??
Jake has been playing percussion for over 9 years and has played with many of the Latin bands in the S.F. Bay Area. If you are having a party/event/wedding/etc and you would like LIVE music, please contact me. I have associations with most of the musicians in the area, and the band can be configured to whatever your needs may be - from a trio to a 10-piece full salsa band! Dinner music, background, dance, as the case may be.
PLEASE CONTACT JAKE THROUGH THIS WEB SITE FOR BAND BOOKINGS! Of course I can also teach a salsa lesson too at your party :-)

Next Performances: Monday March 31 at Rockit Room/Neck of Woods at 9:30pm Salsacrazy classes at 7,8pm.
Thursday, April 3 at Cocomo on Dancer's Night following Jake's 8pm class, and
Tuesday April 8 on the new LIVE SALSA TUESDAYS at Cocomo after Felipe's salsa class (we play 10pm).
Five years in the planning, Jake finally started a band with the cool vibraphone sound that many dancers love and many DJs play. A 7-piece band features the instrument and great music from the past. For more information, please visit www.VibraSONmusic.com or www.Facebook.com/VibraSONmusic
Next Performance:
Friday May 9 - TASTE Fridays at Cocomo, 650 Indiana St, SF
Jake will be playing percussion with the Latin/Salsa bands below at the following times/locations:
| | | | | |
| --- | --- | --- | --- | --- |
| Date | Day | Band | Location | Time |
| | | | --- 2012--- | |
| March 28 | Wed | Saboriqua | Shattuck Down Low, 2284 Shattuck Ave, Berkeley, CA | 10:15pm |
| April | | | traveling... | |
| May 19 | Sat | Andy y su Orq | At The Ramp, SF 4pm - before Cocomo | 4pm |
| May 11 | Fri | Candela | The Beat dance studio, 9th/Parker, Berkeley | 10pm |
| May 27 | Sun | Andy y su Orq | At Swiss Park for Peru festival (day) and El Rio 4pm in SF | 1pm |
| June 3 | Sun | LaTiDo | Impala, 501 Broadway, SF (salsa room) | 11pm |
| June 16 | Sat | Pacho y Evolution | Club Sazon, 2765 Clayton Rd, Concord, CA | 10:30pm |
| July 21 | Sat | Andy y sy Orq | At The Ramp, SF 4pm - before Cocomo | 5:00pm |
| July 25 | Wed | Saboricua | Down Low Lounge, 2284 Shattuck, Berkeley | 10:15pm |
| Aug 10 | Fri | Montuno Swing | The Beat dance studio, 9th/Parker, Berkeley | 10:15pm |
| Oct 19 | Fri | Montuno Swing | Otaez, 1619 Webster St, Alameda, CA | 10:00pm |
| Oct 26 | Fri | Edgardo Y Candela | Cocomo, 650 Indiana St, SF, CA -sitting in with band on this TASTE FRIDAY Halloween Party... | 10:15pm |
| Oct 30 | Tue | Edgardo Y Candela | Cocomo, 650 Indiana St, SF, CA - Match.com event | 9:30pm |
| | | | ---- 2013 ---- | |
| Feb-Apr 2013 | | | Jake traveling... playing in Sydney Australia! | |
| July-Aug | | | Jake traveling... | |
| Sept-Oct | | | Rehearsals | |
| Nov 19 | Tue | VibraSON | Jake's new band! Debut at WEPA Tue, Cocomo, 650 Indiana St, SF | 10:15pm |
| Dec 09 | Mon | VibraSON | Jake's band - plays the SalsaCrazy 5th Anniversary Party at Rockit Room/Neck of the Woods, 406 Clement St, SF. TWO BANDS alternating sets: we start FIRST at 8:30pm | 8:30pm |
| Dec 12 | Thur | VibraSON | Jake's band plays Dancer's Night! Cocomo, 650 Indiana, SF | 10:15pm |
| | | | ---- 2014 ---- | |
| Jan 30 | Thur | VibraSON | Jake's band plays Dancer's Night! Cocomo, 650 Indiana, SF | 10:15pm |
| Feb 16 | Sun | VibraSON | President's Day Bash by DJ JessyJaz at CPAA Arts Center, 1168 Bollinger Road, San Jose, CA | 10:15pm |
| Feb 21 | Fri | VibraSON | Taste Fridays at Cocomo, 650 Indiana, SF | 10:15pm |
| Feb 27 | Thu | VibraSON | Dancer's Night! Cocomo, 650 Indiana, SF | 10:15pm |
| Mar 1 | Sat | VibraSON | Yerba Buena Social Club, 2050 Bryant St, SF | 10:30pm |
| Mar 15 | Sat | VibraSON | Allegro 3rd Saturdays, 5855 Christie Ave, Emeryville | 10:00pm |
| Mar 20 | Thu | VibraSON | Dancer's Night! Cocomo, 650 Indiana, SF | 10:15pm |
| Mar 31 | Mon | VibraSON | SalsaCrazy Party at Rockit Room/Neck of the Woods, 406 Clement St, SF. | 9:30pm |
| Apr 3 | Thu | VibraSON | Dancer's Night! Cocomo, 650 Indiana, SF -- Jake teaches at 8pm too! | 10:15pm |
| Apr 8 | Tue | VibraSON | Jake's band! LIVE at the new Salsa Tuesdays, Cocomo, 650 Indiana St, SF | 10:00pm |
| 4/18-5/2 | | VibraSON | traveling... no gigs | |
| May 9 | Fri | VibraSON | TASTE Fridays at Cocomo, 650 Indiana, SF | 10:00pm |
| May 16 | Fri | VibraSON | Club Fox, 2209 Broadway, Redwood City, CA | 10:15pm |
| May 23 | Fri | VibraSON | Cigar Bar 850 Montgomery St, San Francisco, CA | 10:00pm |
| Aug 23 | Sat | VibraSON | t.b.a. | |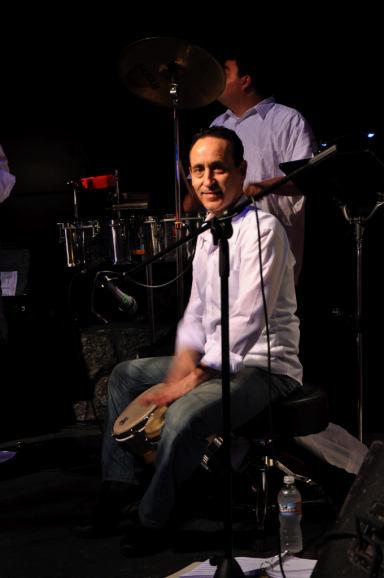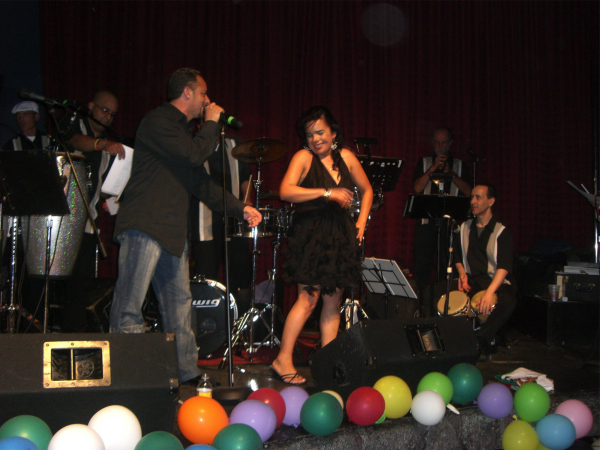 Back to top of SalsabyJake.com